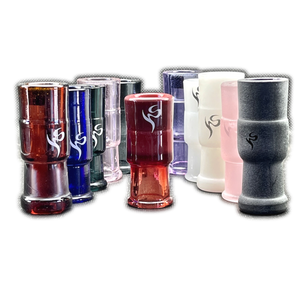 Made in USA, exclusively for the Healthstone Vapor Stone.
Style:

Female Slide
Color:

 

Various Colors

 

(Variations may exist, frit is beautiful in many shades)
Dimensions:

 

14MM Female Joint
1 x Slide
1 x Original HealthStone
(

replacement recommended every 3 months of use)
RECOMMENDED ITEM: HEALTHSTONE x VECTOR TRIPLE FLAME TORCH
@HEALTHSTONEGLASS VaporStone is 100% USA Sourced and Manufactured, engineered using NASA grade ceramics, since 2009. The stone is designed to conveniently and efficiently work with all kinds of concentrates using minimal heat, like our triple flame torch. Perfect on the go dabbing experience.
Check out 100's of independent videos on YouTube!
Colors/Shape may vary slightly from photo. Variations will exist.
Made from Borosilicate Glass, not same as Quartz, the glass does not need to be heated. Only use

 

recommended heating source. Heating the glass excessively will cause damage. Read more in our

 

BLOG.
Limited heat is needed to vaporize concentrates using our vapor stone, please read details in our

 

BLOG.